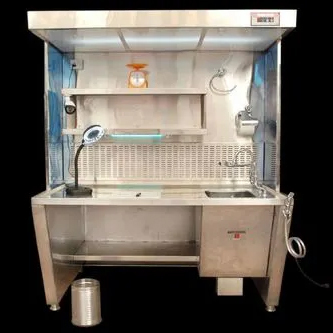 Grossing Station
Product Description
Features:
The cabinet is of seamless stainless steel medical grade framework and designed for enough working space, maintenance and cleaning is easy.
The height of the cabinet is app.30-40 inches length 60-65 and width is 30-40 inches.
Provided with exhaust duct with high speed fan for connection to building ventilation system with adjustable bellows.
Weighing scale washable attached to measure organs up to 5kg in weight with calibration certificate.
Ruler for measurement stainless steel washable.
Florescent light top mounted ISI marked.
Large deep sink with attached shower and tap system for cold and hot water with foot operated.
Adjustable shelf with built in magnifier.
Magnetic tool bar.
Non breakable polythene dissecting board perforated vent grill.
Ventilation system backside with exhaust fan with control for speed adjustment.
Built in waste disposable system.
Mounting facility for camera.
C shaped stainless steel paper-roll / towel holder.
The Grossing Station is made from high grade stainless steel medical framework and have enough working space.
It require less maintenance and cleaning.
This cabinet is fabricated with is approx. 30-40 inches dimension with length 60-65 inches and width is 30-40 inches.
It is equipped with exhaust duct which has high speed fan and connected with building ventilation system with bellows which are adjustable.
The weighing scale can measure upto 5 kg organs in weight, easily washable and has calibrated certificate.
The machine has C shaped stainless steel paper-roll / towel holder, mounting facility for hanging camera and have in built waste disposable system.
The Grossing Station has measurement box with ruler line and formed of stainless steel which are washable.
It has ISI marked florescent light top and large deep sink attached with shower & tap system that provide hot & cold water for food operation.
This is non-breakable because of polythene dissecting board perforated vent grill.
It has magnetic tool bar and ventilation system with controlled exhaust fan that can be adjusted as per requirement of the working.
Trade Information
All India

AN ISO 9001:2015 CE